The "World Association of Radiopharmaceutical and Molecular Therapy" (WARMTH) extends its activities throughout the world. WARMTH is the only worldwide organization founded to promote the use of radionuclide molecular therapy, and of the relatively novel paradigm of 'Theragnostics.'
WARMTH is a voluntary non-profit organization of individuals specifically associated for the purposes, and for using the means, to achieve the following research and educational objectives:
Advance science and education of therapeutic nuclear medicine and radiopharmaceutical therapy including dosimetry, treatment evaluation, radiation physics, radiation biology and radiation protection for the benefit of public health and humanity.
Work towards worldwide access to radionuclide therapy by harmonizing good practice.
Educating nuclear medicine professionals in the use of radionuclide therapies and to facilitate research in this area.
The 14th ICRT will be held in Nanjing China from 22nd-25th August 2019 with pre-congress and opening on 21st August.
Tentative deadline for submission of abstracts will be on 30th April 2019. . Awards to be given include: Life Achievement Award, Best Poster and Best Oral Presentation. Abstract and registration information to be published 1-March-2019.
Please sign up for our newsletter if you are not already a member to get ICRT updates.
Need to check visa information? Click here.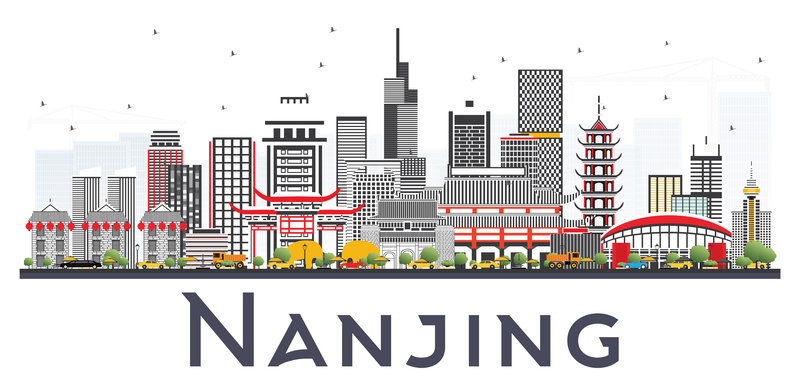 5th International Meeting on Molecular Imaging and Molecular Therapy 3rd Serbian Meeting on Hybrid Imaging and Molecular Therapy
March 8-9, 2019 / Novi Sad, Serbia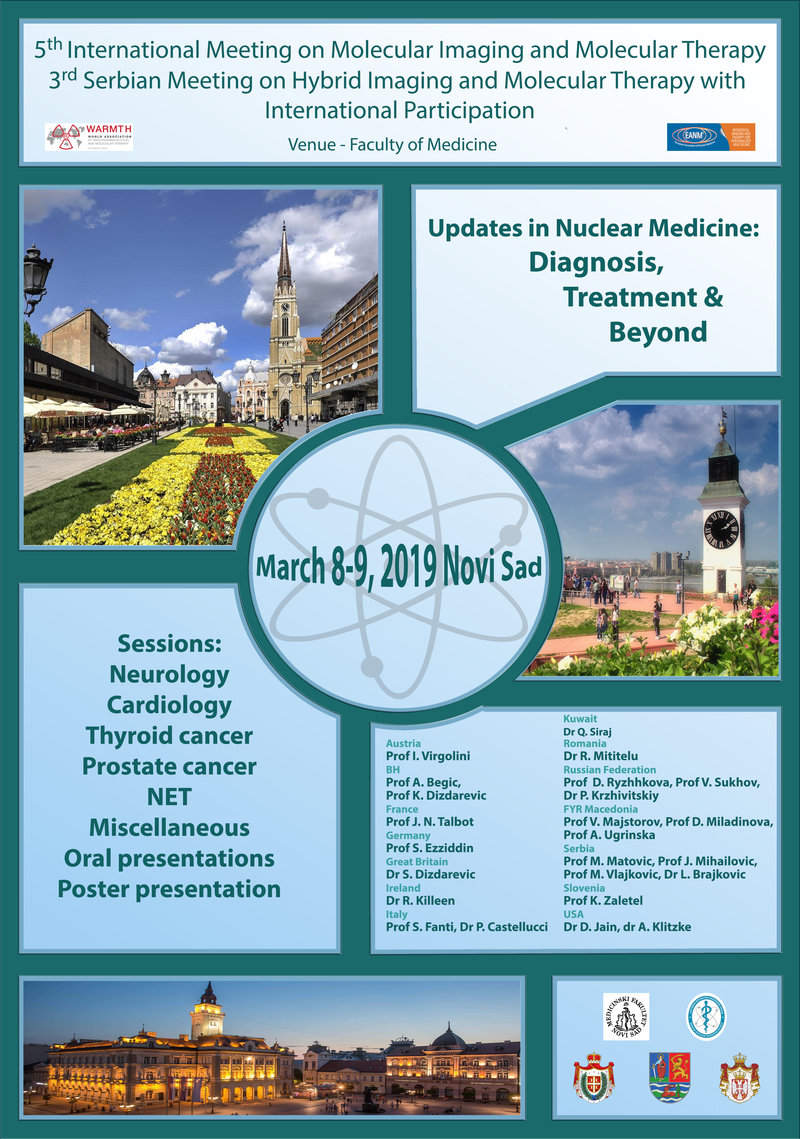 The Serbian Society of Nuclear Medicine welcomes you to the city of Novi Sad for attending the 5th International Meeting on Molecular Imaging and Molecular Therapy and the 3rd Serbian Symposium on Hybrid Imaging and Molecular Therapy with International Participation, under the name Diagnosis, Treatment & Beyond. The Meeting is organized by the Medical Faculty of Novi Sad and the Serbian Society of Nuclear Medicine, under the auspices of the EANM and WARMTH.
Our previous meetings brought together nuclear medicine physicians, chemists, physicists, technologists and those interested in nuclear medicine science from many countries all over the world. We had over 300 participants from 20 different countries.
Click here for agenda.
Click here to register.
Committees
Organizing Committee
Prof Jasna Mihailovic, PhD, MD, President of Serbian Nuclear Medicine Society
Prof Snezana Brkic, PhD, MD, Dean of the Medical Faculty of Novi Sad
Vanja Cimbaljevic, MD
Jelena Roganović, MD
Nina Klicov, Chief Technician
Marko Vasiljevic, Technician
Dear Friends and Members of WARMTH,
We would like to add our words of thanks to everyone, and we convey our pleasure at being elected to work with all of you. We are looking forward to continue our
service to WARMTH as President and President-Elect. We are fortunate to be part of our exciting team working with enthusiastic people in directing WARMTH with the goal to maintain our phenomenal success since its early childhood. From "childhood" to entering "adulthood", WARMTH has overcome various challenges over the last few years, which, by the grace of God, we continue solving step-by-step.
In 2018 WARMTH supported several prestigious meetings including the 13th ICRT-2018 held as Pre-Congress Meeting of the 12th WFNMB Congress in Melbourne, a Categorical Seminar as well as CME-Sessions during the Annual Meeting of the SNMMI in Philadelphia, the ISRT-2018 Meetings in Bandung, Indonesia and the ISRT-2018 in Helsinki, Finland.
During the ISRT-2018 Meeting in Helsinki the 3rd Ajit Padhy Oration was presented by Steven M. Larson, MSKCC, NY, USA on "New insights in Theragnostics" and the Lifetime Achievement Award 2018 was presented to Juhani M. Knuuti. WARMTH was also present in a leadership meeting of the leading Nuclear Medicine Societies at the IAEA headquarter in Vienna with representatives of ALASBINM, AOFNMB, ASNM, EANM, SNMMI, WFNMB, when WARMTH was recognized as a major voice in Nuclear Medicine. Furthermore, we were present during the 4th Uruguayan Congress in Montevideo, Uruguay and the 7th Argentinian Meeting on Nuclear Medicine in Buenos Aires, Argentina.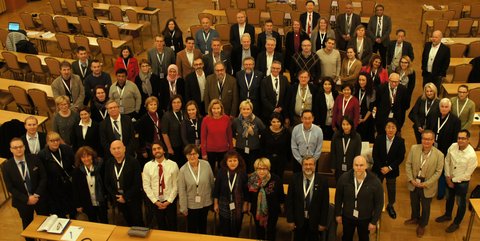 Delegates for 2018 ISRT Helsinki
The 13th ICRT will be held on April 20th, 2018 on the first day of the WFNMB 12th World Congress.
The 12th Congress of the WFNMB is a must attend quadrennial event for nuclear medicine physicians, radiologists, medical imaging trainees, physicists, technologists, nurses, and the broader medical and scientific community.
With over 2,000 attendees from around 40 countries, participation at this congress will allow you to make fruitful connections, gain insight into the latest research, clinical and technical standards, imaging and treatment strategies, and bring the latest in molecular imaging and therapeutic care back to your patients.
Click here to download the agenda or here to see it online.
Click on the image below to see session recordings.
International Symposium on Radiopharmaceutical Therapy will be held at the Paasitorni Congress Center Helsinki, Finland on November 18–20, 2018. You are cordially invited to participate in the conference. The conference will bring together colleagues from all over the world to exchange information and define future directions.
Finland as the host country together with World Association of Radionuclide and Molecular Therapy (WARMTH) will do its best to offer the delegates a high quality programme and make the conference a memorable event; both scientifically and socially.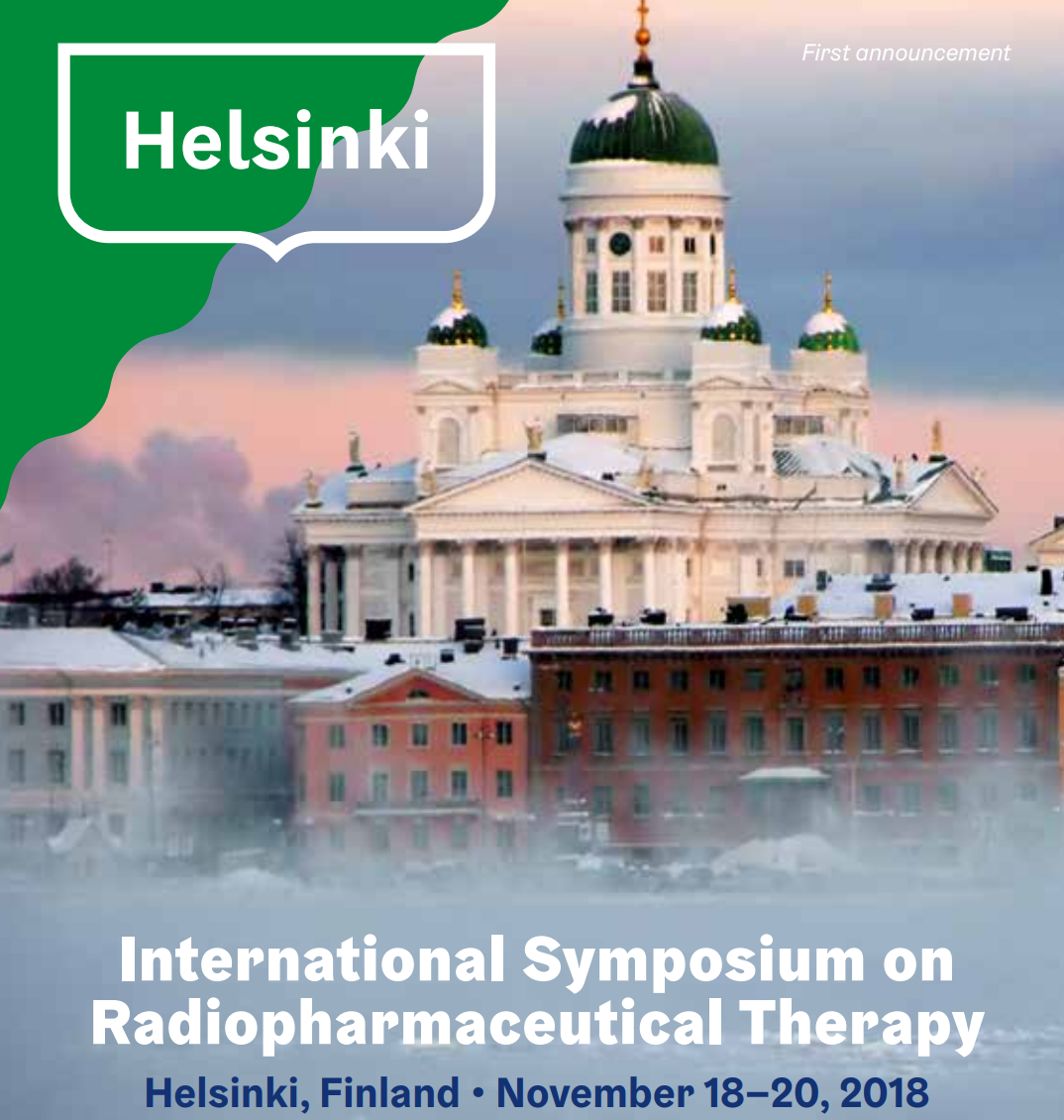 International Scientific Board
• Kalevi Kairemo, Helsinki, Finland
• Richard P. Baum, Bad Berka, Germany
• Raihan Hussein, Dhaka, Bangladesh
• Seigo Kinuya, Kanazawa, Japan
• Steven M. Larson, New York, USA
• Homer Macapinlac, Houston, USA
• Mike Sathegke, Pretoria, South Africa
• Andrew M. Scott, Melbourne, Australia
• Oyvind Bruland, Oslo, Norway
• Suresh Srivastava, Brookhaven, USA
• J. Harvey Turner, Fremantle, Australia
• Irene Virgolini, Innsbruck, Austria
Local Organizer
This email address is being protected from spambots. You need JavaScript enabled to view it.
Specialist in Nuclear Medicine,
Clinical Chemistry and Pharmacology,
Chairman, Organizing Committee
Chief Physician, Dept. of Nuclear Medicine & Molecular Radiotherapy
Docrates Cancer Center
Saukonpaadenranta 2
FI–00180 Helsinki, Finland
We are pleased to announce the election results, and to both congratulate and extend a warm welcome to our new officers and members of our Advisory Board/Governing Body. Over 55% of eligible WARMTH Members took part in the election.
Based on the election results and Advisory Board appointments the 2018/19 WARMTH Leadership is as follows: