The "World Association of Radiopharmaceutical and Molecular Therapy" (WARMTH) extends its activities throughout the world. WARMTH is the only worldwide organization founded to promote the use of radionuclide molecular therapy, and of the relatively novel paradigm of 'Theragnostics.'
WARMTH is a voluntary non-profit organization of individuals specifically associated for the purposes, and for using the means, to achieve the following research and educational objectives:
Advance science and education of therapeutic nuclear medicine and radiopharmaceutical therapy including dosimetry, treatment evaluation, radiation physics, radiation biology and radiation protection for the benefit of public health and humanity.
Work towards worldwide access to radionuclide therapy by harmonizing good practice.
Educating nuclear medicine professionals in the use of radionuclide therapies and to facilitate research in this area.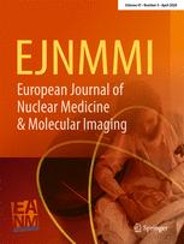 Ahmadzadehfar, H., Rahbar, K., Baum, R.P. et al. Prior therapies as prognostic factors of overall survival in metastatic castration-resistant prostate cancer patients treated with [177Lu]Lu-PSMA-617. A WARMTH multicenter study (the 617 trial). Eur J Nucl Med Mol Imaging (2020). https://doi.org/10.1007/s00259-020-04797-9
WARMTH demonstrated in a multicenter study the impact of prior therapies, especially chemotherapy, on the overall survival (OS) of patients with castration-resistant prostate cancer (CRPC) who were receiving [177Lu]Lu-PSMA-617 therapy. In this study, 11 clinics combined their patients' data to provide a large number of patients for statistical analysis with high power.
This retrospective study was approved by the Ethical Committee of the Medical University of Innsbruck.
Data of 416 patients were analyzed. The study's inclusion criteria required that all the patients had to have been pretreated with abiraterone, enzalutamide, or both or had to exhibit documented, progressive disease under ongoing therapy with one of those agents. About 75% of the patients received at least one line of chemotherapy. The median OS was 11.1 months whereas the patients without prior chemotherapy showed a significantly longer OS of 14.6 months. This remained independent in the multivariate analysis in addition to the presence of bone and liver metastases as negative prognosticators for survival whereas an ECOG of 0–1 is associated with a longer OS.

The world is going through difficult times and we are all trying to find solutions in different unique ways to keep us and our families safe. "Break the chain" has been a common slogan for all the countries which we can achieve by physical distancing and therefore most of the countries are in complete lockdown. I believe at this point in time we are gradually moving towards the peak of the corona crisis and thinking about the post-pandemic life expected in the next few months.
I am sure all of us are carrying out our professional work in our own unique ways and probably this is the time for us to "work from home", educating our peers and finish writing out our completed research projects, for which there is always a paucity of time amidst our routine daily work schedule.
I want to reiterate the fact that education is a critical part of WARMTHs mission and to achieve this, virtual curriculum will be the key now at this point in time. There are few scientific papers already in print regarding our practice during the COVID times and I am sure all of you must have gone through it.
In continuation of the efforts for education the Nuclear Medicine and diagnostic imaging Section of the IAEA, under the dynamic leadership of Dr. Diana Paez, has organized a series of webinars and information on the COVID-19 pandemic and it's impact to the practice of nuclear medicine.
The Society of Nuclear Medicine and Molecular Imaging resource section is another source of virtual information and can be accessed here. The European Association of Nuclear Medicine COVID-19 resource page can be accessed here.
My dear friends at this time of crisis we all should join hands to protect our patients, their caregivers, our staff, and families.
Stay safe, stay healthy. Practice physical distancing but social solidarity: as we say in India, "Jan Hai toh Jahan Hai" meaning IF YOU HAVE LIFE, YOU HAVE THE WORLD.
With my warm regards,
Partha Choudhury
President (WARMTH)
The 15th ICRT 2020 is going virtual.
December 5-6, 2020
Abstract Submission Closed

On behalf of the 15th ICRT Secretariat, it is a great pleasure to welcome you to the 15th International Conference on Radiopharmaceutical Therapy (ICRT) of WARMTH virtually.
The two-day conference will bring together the leaders, physicians, scientists, healthcare professionals, and others interested in the challenges related to nuclear medicine and molecular imaging. We assure you the highest level of scientific discussions relevant to research and policymaking for the promotion of radiopharmaceutical therapy.
While we wish we were coming together and experiencing the cultural and culinary heritage at our original site in Cox's Bazar, Bangladesh as with all other international congresses we will be meeting virtually this year.
Important dates:
Abstracts Open: September 30, 2020
Abstracts Close October 31, 2020, Extended through November 8, 2020 - Now Closed
Registration Now Open
Virtual Education Sessions: December 5-6, 2020


Prof. Dr. Raihan Hussain, President ICRT 2020 & President SNMB
Click Read more to view the agenda and other information
Dear Friends and Members of WARMTH,
As 2020 is approaching, this is my last letter as president of WARMTH and it is my privilege to summarize my presidency for the last two years. It was an honour for me to serve WARMTH as Congress President of the 10th ICRT-2015 held in Innsbruck, Austria, under President Richard Baum, Bad Berka, Germany, as President-Elect (2016 – 2017) under President Suresh Srivastava, Brookhaven, USA, as President (2018 – 2019), and I am looking forward to continuing serving WARMTH as Past-President under the Presidency of Partha Choudhury, New Delhi, India (2020 – 2021) and Mike Sathekge, Pretoria, South Africa (2022 – 2023).
We are pleased to announce the election results, and to both congratulate and extend a warm welcome to our new officers and members of our Advisory Board/Governing Body. Over 55% of eligible WARMTH Members took part in the election.
Based on the election results and Advisory Board appointments the 2020/21WARMTH Leadership is as follows:
The 14th ICRT will be held in Nanjing China from 22nd-25th August 2019 with pre-congress and opening on 21st August.
Abstracts submission extended to 22, June 2019. Awards to be given include: Life Achievement Award, Best Poster and Best Oral Presentation. A limited number of travel grants are available. Please click here in order to submit an application.
Please sign up for our mailing list, if you are not already a member to get ICRT updates. Need to check visa information?