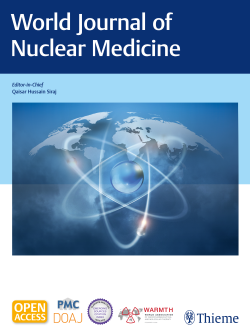 The World Journal of Nuclear Medicine is a scientific journal published quarterly.
The purposes of the journal are as follows:
To promote research in nuclear medicine globally and in the developing countries in particular
To promote good practice in nuclear medicine
To help the World Association of Radiopharmaceutical and Molecular Therapy (WARMTH) in our pursuit of promoting nuclear medicine around the world.
Target Group: All Nuclear Medicine Professionals practicing nuclear medicine around the world Specialists belonging to various fields of nuclear medicine (Physicians, radio pharmacists, physicists, radioimmunoassayists, molecular biologists, etc.), technologists, and nurses
End-users of nuclear medicine procedures: Surgeons, physicians, endocrinologists, radiologists, nephrologists, cardiologists, rheumatologists, etc Manufacturers of equipment and reagents relevant to nuclear medicine Atomic Energy Commissions, Governmental and administrative personnel relevant to nuclear medicine practice in the various countries.
ι Author's Guide | This email address is being protected from spambots. You need JavaScript enabled to view it.