5th International Meeting on Molecular Imaging and Molecular Therapy 3rd Serbian Meeting on Hybrid Imaging and Molecular Therapy
March 8-9, 2019 / Novi Sad, Serbia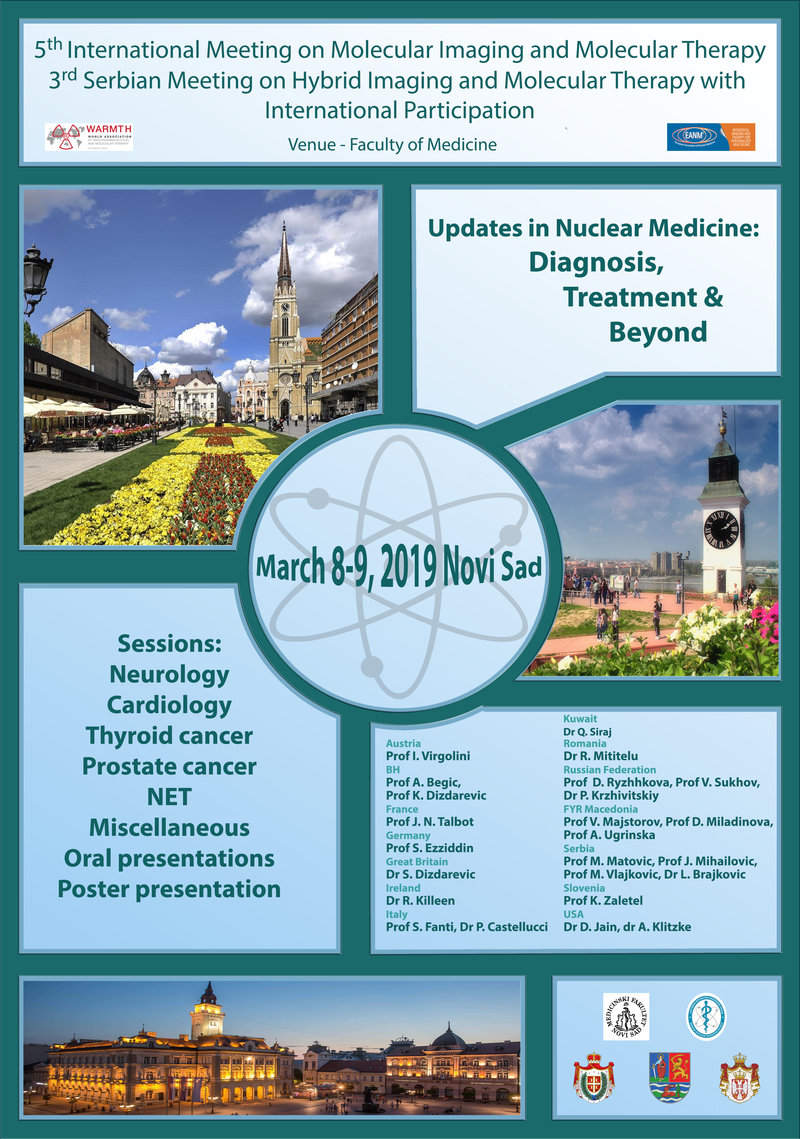 The Serbian Society of Nuclear Medicine welcomes you to the city of Novi Sad for attending the 5th International Meeting on Molecular Imaging and Molecular Therapy and the 3rd Serbian Symposium on Hybrid Imaging and Molecular Therapy with International Participation, under the name Diagnosis, Treatment & Beyond. The Meeting is organized by the Medical Faculty of Novi Sad and the Serbian Society of Nuclear Medicine, under the auspices of the EANM and WARMTH.
Our previous meetings brought together nuclear medicine physicians, chemists, physicists, technologists and those interested in nuclear medicine science from many countries all over the world. We had over 300 participants from 20 different countries.
Click here for agenda.
Click here to register.
Committees
Organizing Committee
Prof Jasna Mihailovic, PhD, MD, President of Serbian Nuclear Medicine Society
Prof Snezana Brkic, PhD, MD, Dean of the Medical Faculty of Novi Sad
Vanja Cimbaljevic, MD
Jelena Roganović, MD
Nina Klicov, Chief Technician
Marko Vasiljevic, Technician
Scientific Committee
Dr Aida Afgan, MD, Serbia
Prof Boris Ajdinovic, MD, PhD, Serbia
Prof Vera Artiko, MD, PhD, Serbia
Prof Amela Begic, MD, PhD, Bosnia and Herzegovina
Dr Paolo Castellucci, MD, Italy
Assoc Prof Sabina Dizdarevic, MD, PhD, UK
Prof Kemal Dizdarevic, MD, PhD, Bosnia and Herzegovina
Prof Samer Ezziddin, MD,PhD, Germany
Prof Stefano Fanti, MD, PhD, Italy
Snezana Golubovic, MD, MSc Pharm, Serbia
Prof Slobodan Ilic, MD, PhD, Serbia
Prof Diwakar Jain, MD, PhD, USA
Dr Pavel Krzhivitskiy, MD, MSc, Russian Federation
Dr Ronan Killeen, MD, PhD, Ireland
Prof Milovan Matovic, MD, PhD, Serbia
Prof Ljiljana Mijatovic, MD, PhD, Serbia
Prof Danijela Miladinova, MD, PhD, FYR Macedonia
Prof Jasna Mihailovic, MD, PhD, Serbia
Prof Vladimir Obradovic, MD, PhD, Serbia
Assoc Prof Dragan Pucar, MD, PhD, Serbia
Prof Milena Rajic, MD, PhD, Serbia
Prof Zvezdana Rajkovaca, MD, PhD, RS, Bosnia and Herzegovina
Prof Daria Ryzhhkova, MD, PhD, Russian Federation
Dr Qaisar Siraj, MD, PhD, Kuwait
Prof Dragana Sobic-Saranovic, MD, PhD, Serbia
Prof Viacheslav Sukhov, MD, PhD, Russian Federation
Prof Irene Virgolini, MD, PhD, Austria
Research Prof Sanja Vranjes-Djuric, PhD, Serbia
Prof Jean-Noel Talbot, MD, PhD, France
Prof Marina Vlajkovic, MD, PhD, Serbia
Prof Katja Zaletel, MD, PhD, Slovenia
Assoc Prof Radmila Zeravica, MD, PhD, Serbia
Honorary Committee
Prof Zoran Milosevic, PhD, Provincial Secretary for Higher Education and Scientific Research
Milos Vucevic, Mayor of the City of Novi Sad