On January 12, 2017 - the World Journal of Nuclear Medicine issue was made available online. To learn more about the Journal click here. To read the journal online click the image below.
Dear Friends of WARMTH!
As the New Year 2016 has begun, I am looking forward to serving the WARMTH as its President for the two years (2016 /17). I greatly appreciate my predecessors (Richard Baum, the Late Ajit Padhy, and Harvey Turner) who have provided excellent examples of leadership of WARMTH. I am excited to have been a part of such exciting teams and working with the exceptional people instrumental in directing WARMTH, and thus my goal is to continue to maintain our phenomenal success.
Suresh Srivastava, Phd, President Elect of WARMTH and SNMMI Nuclear Oncology Council Vice President contributed an article for the spring 2014 NOC Newsletter. The article traces the history of WARMTH from the beginning in 2002 to our Society's goals for our ICRT events which are 1) To carry out an evaluation of the current status of radiopharmaceutical therapy on global basis; 2) To help in the transfer of important information on the current trends in radiopharmaceutical therapy from developed to developing countries; 3) To publish technical document based on the proceedings; 4) To promote radiopharmaceutical therapy on a global scale, particularly in developing countries; and 5) To formulate strategy documents for promoting the practice of radiopharmaceutical therapy around the world.

To read the entire article click here.
We are pleased to announce the election results, and to both congratulate and extend a warm welcome to our new officers and members of our Advisory Board/Governing Body. Over 56% of eligible WARMTH Members took part in the election.
Based on the election results and Advisory Board appointments the 2016/17 WARMTH Leadership is as follows: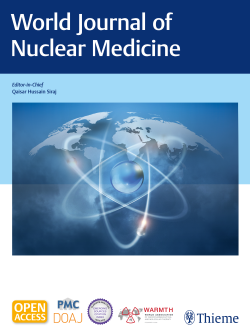 The World Journal of Nuclear Medicine is a scientific journal published quarterly.
The purposes of the journal are as follows:
To promote research in nuclear medicine globally and in the developing countries in particular
To promote good practice in nuclear medicine
To help the World Association of Radiopharmaceutical and Molecular Therapy (WARMTH) in our pursuit of promoting nuclear medicine around the world.
Target Group: All Nuclear Medicine Professionals practicing nuclear medicine around the world Specialists belonging to various fields of nuclear medicine (Physicians, radio pharmacists, physicists, radioimmunoassayists, molecular biologists, etc.), technologists, and nurses
End-users of nuclear medicine procedures: Surgeons, physicians, endocrinologists, radiologists, nephrologists, cardiologists, rheumatologists, etc Manufacturers of equipment and reagents relevant to nuclear medicine Atomic Energy Commissions, Governmental and administrative personnel relevant to nuclear medicine practice in the various countries.
ι Author's Guide |
This email address is being protected from spambots. You need JavaScript enabled to view it.