Dear Friends and Members of WARMTH,
We would like to add our words of thanks to everyone, and we convey our pleasure at being elected to work with all of you. We are looking forward to continue our
service to WARMTH as President and President-Elect. We are fortunate to be part of our exciting team working with enthusiastic people in directing WARMTH with the goal to maintain our phenomenal success since its early childhood. From "childhood" to entering "adulthood", WARMTH has overcome various challenges over the last few years, which, by the grace of God, we continue solving step-by-step.
In 2018 WARMTH supported several prestigious meetings including the 13th ICRT-2018 held as Pre-Congress Meeting of the 12th WFNMB Congress in Melbourne, a Categorical Seminar as well as CME-Sessions during the Annual Meeting of the SNMMI in Philadelphia, the ISRT-2018 Meetings in Bandung, Indonesia and the ISRT-2018 in Helsinki, Finland.
During the ISRT-2018 Meeting in Helsinki the 3rd Ajit Padhy Oration was presented by Steven M. Larson, MSKCC, NY, USA on "New insights in Theragnostics" and the Lifetime Achievement Award 2018 was presented to Juhani M. Knuuti. WARMTH was also present in a leadership meeting of the leading Nuclear Medicine Societies at the IAEA headquarter in Vienna with representatives of ALASBINM, AOFNMB, ASNM, EANM, SNMMI, WFNMB, when WARMTH was recognized as a major voice in Nuclear Medicine. Furthermore, we were present during the 4th Uruguayan Congress in Montevideo, Uruguay and the 7th Argentinian Meeting on Nuclear Medicine in Buenos Aires, Argentina.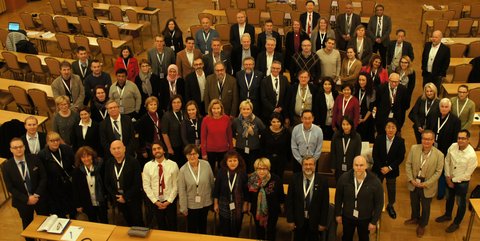 Delegates for 2018 ISRT Helsinki
In 2019 the 14th ICRT will be held in Nanjing China from August 22-25, 2019 with pre-congress and opening on 21st August. The Chinese Nuclear Medicine Society will be in charge of the program, social activities as well as identifying the conference's scientific committee. Tentative deadline for submission of abstracts will be on April 30, 2019. Nominations for the 4th Ajit Padhy Oration should be made until 15.02.2019 to the president who will make the decision together with the Executive Board Members. Awards to be given at the ICRT-2019 include the Life Achievement Award 2019, Best Poster and Best Oral Presentation Awards. There will be a link on the WAMRTH website for the announcement in Chinese language as well. In adition, the Governing Board has confirmed that in 2019 ISRTs will be sponsored in March in Novi Sad, Serbia (Host: Jasna Mihailovic) and in November in Cyprus (Host: Savvas Fangos).
WARMTH is very thankful to Sabina Dizdarevic who intensively lead our work on thyroid cancer which resulted in a position paper "The WARMTH Position Statement on Radioiodine in malignant disease of the thyroid gland". In addition, both our retrospective studies under the lead of Hojjat Ahmadzadehfar, Bonn, Germany (WARMTH Retrospective Multicentre Analysis of Castration Refractory Metastatic Prostate Cancer Patients Treated by Lu-PSMA-617) and Margarida Rodrigues, Innsbruck, Austria (WARMTH Retrospective Study: Multicenter Analysis of 68Ga-Somatostatin Receptor and 18F-FDG-PET/CT (Dual-Tracer Imaging) in Neuroendocrine Tumor Patients Treated With Peptide Receptor Radionuclide Therapy) have been approved by the Ethical Commission of the Medical University Innsbruck. Short study synopsis, CRF is on the website at https://warmth.org/files-presentation/category/17-clinical-trials. We current have participating centers from the following countries: Germany, India, South Africa, Italy, Australia, Austria, Finland, Turkey, China, Uruguay, and Jordan. Other WARMTH Centers are welcome to join as well.
The GB of WARMTH has endorsed t the 1st World Theragnostics Day which will celebrated on March 31, 2019 which is the anniversary of the first thyroid tumor treatment with radioiodine by Paul Hertz.
In 2019, Qaisar Siraj will become Editor in Chief our prestigious World Journal of Nuclear Medicine from Senior Editor in Chief John Buscombe, Cambridge, UK. We wish to thank John for his amazing service to the Journal as Editor in Chief over these many years.
We look forward to seeing many of you at our various meetings throughout the New Year. According to our late Ajit Padhy we must try to go beyond the little issues, focus on the big things and rise to our potential.
Wishing you and your beloved ones the most wonderful and peaceful of Christmas Holidays and a Happy New Year 2019, filled with success and joy!
With warm(th)ly wishes,
| | | |
| --- | --- | --- |
| | | |
| Irene Virgolini | | Partha Choudhary |
| President, WARMTH | | President-Elect, WARMTH |